The Quilt Basket in York, Nebraska
We're glad to welcome you to our store. Located in York, Nebraska, just 3 miles north of the junction of Interstate 80 and Highway 81 at 718 N Lincoln Avenue. Stop in and enjoy our great selection of fabrics, patterns and notions.
Our 2022 Classes & Clubs information is now available for you too! View details about our Classes & Clubs to see which is right for you.
We feature Bernina Sewing Machines and accessories. With a Bernina certified repairman on-site, we can offer you a quick turnaround time. You'll have your machine back at home and humming again real soon.
Along with our selection of quilt fabric, we carry general sewing and embroidery supplies. We carry a large selection of books, patterns, rulers, notions, thread, DMC embroidery floss and more!! Everything you need for Machine embroidery is available here also! Need a notion we don't have? We will place a "Special Order" for those hard to find things.
Quilting Services
Bring in your finished quilt projects and we can quilt them on our long arm. We have a variety of computerized Edge to Edge designs and thread colors to choose from. Edge to edge quilting is the simplest and most cost-effective service we offer. Most patterns cost 2 cents per square inch and, as the name implies, the same pattern repeats from one edge to the other. Simply do the math. Length x width x 2 cents = the price of stitching. ($40 minimum, no extra thread charge).
We also offer custom quilting service on our Bernina Q16. Becki does a fabulous job, stop in and talk to her about what custom designs she can do for you! Becki is available most Mondays, Wednesdays, Thursdays, and Fridays.
Please note that there will be a $10.00 charge to piece the backing of your quilt. And a $15.00 charge to press your quilt top or backing. Additional sewing or repair is $20.00.
Quilts will be quilted in the order they are received. We strive to return your quilt in a timely manner. Rush orders will be charged extra.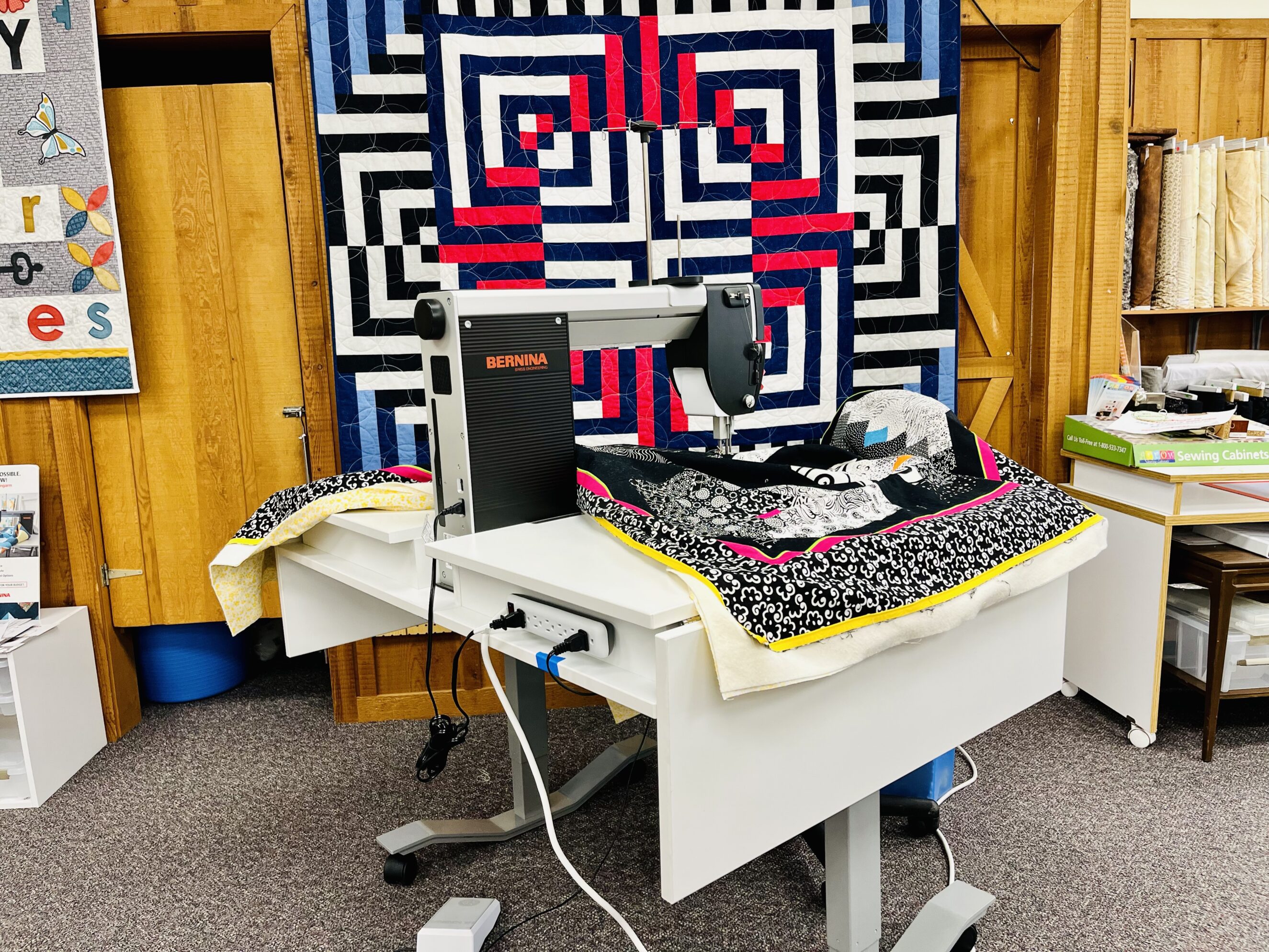 Renting a Bernina Q16 machine
Interested in doing your own quilting? We also rent out our Bernina Q16 Machine to those who have completed a Bernina Learning class on the Q16 Machine. This class is by appointment only.

Learning Class Q16- $25.00

Rent Machine – 2 hour (minimum) at $30.00 per hour.
To assure a quality finished product and minimize your cost, please follow these basic guidelines:

Press all seams flat and trim loose threads from the quilt top.

Measure and press backing fabric. Press the seams open and flat.

We prefer you purchase your batting and thread from us.
Repair Check-In Form:
*Requires indicated field.